Lambaria Eyecare Associates
Optometrist in Davison, MI
About Our Practice
Dr. Lambaria and the entire staff at Lambaria Eyecare Associates thank you for the opportunity to take part in your family's eye care needs. We recognize you have a choice for your eye care needs and we are committed to exceeding all your expectations.
Meet the Optometrist
Dr. Andres Lambaria takes pride in giving you the excellent eyecare and personal attention you deserve, and enjoys providing eyecare for patients in Davison, MI and the surrounding communities. Dr. Lambaria is from Davison, MI and graduated from Davison High School in 1988. He played hockey for the Davison Junior Varsity and Varsity teams. His 1988 team still holds the record for most goals scored in a game (24). He attended the University of Michigan-Flint and received a Bachelor of Science degree in Biology and a minor in chemistry. His optometry school was the Pennsylvania College of Optometry (PCO) in Philadelphia, PA.
About Dr. Lambaria's Story
Dr. Lambaria was first introduced to eyecare when he was 7 years old. It happened when a group of Flint doctors went on a medical mission to Honduras. They examined a man named Anastacio Chavarria who had retinal detachments in both eyes.
The doctors made arrangements for Anastacio to travel back to Flint so they could perform retinal surgery and save his vision. He only spoke spanish and also needed a place to stay during his recovery. Dr. Lambaria's parents volunteered to have Anastacio stay with their family and interpret for him. The surgeries were successful and Anastacio was able to return to Honduras and continue to earn a living.
The Flint Journal covered the story and put an article and pictures of Dr. Lambaria's family in the newspaper. Dr. Lambaria remembers the experience well and it had a significant impact on his decision to choose optometry as a career. He still has the article framed in his personal office.
While in optometry school, Dr. Lambaria helped organize a medical mission to South Africa with the Student Optometric Service to Humanity (SOSH) group in 1998. They provided eyecare and donated glasses to over two thousand people.
At the Pennsylvania College of Optometry, Dr. Lambaria was elected by his classmates to be their Student Module Representative to manage student clinic schedules, address student concerns with faculty, and ensure patients were seen on time. He also volunteered regularly for the emergency service and was on call 24 hours a day and has extensive experience treating eye emergencies, injuries and eye disease.
Dr. Lambaria has been published in the Review of Optometry, eye care's leading magazine, for diagnosing a rare tumor in a teenage patient. He has also contributed articles as an eyecare expert for Innovative Health, a publication that covers the most recent advancements in medicine. He is an active optometrist and a member in the Michigan Optometric Association and American Optometric Association, the Davison Chamber of Commerce, and the Lions Club of Davison.
Dr. Lambaria still resides in Davison. His wife, Staci, is a teacher in Davison. His son, Drew, is a freshman at the Davison High School. They also have a daughter, Brooklyn, who is 5 years old.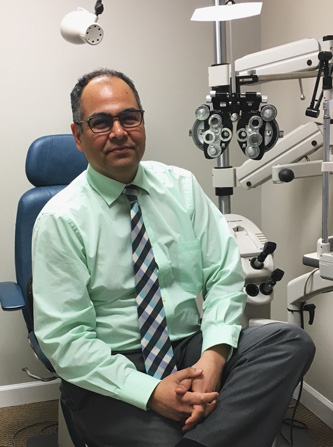 Doctor of Optometry
Pennsylvania College of Optometry, 1999
Bachelor of Visual Science
Pennsylvania College of Optometry, 1999
Hahnemann University Hospital
Philadelphia, PA Externship 1999
Lebanon Veterans Administration Hospital
Lebanon, PA Externship, 1998
Neuro-ophthalmology and Glaucoma
Pennsylvania College of Optometry, 1998
Students of Optometry Serving Humanity
South Africa Mission Trip, 1998
The Eye Institute Primary Care
Pennsylvania College of Optometry, 1997
Bachelor of Science
University of Michigan, 1995
Published Review of Optometry
Funds Exam Reveals Rare Tumor in Teen, 2001
Published Innovative Health
Is the House Call Making a Come Back?, 2008